You are looking for a cheap night for you and your bike?

You're staying here in a house that is also open to cyclists. We have a small bicycle repair shop, can also sometimes wash their clothes and dry and should you are a bigger problem with the bike have, 300 m further is a professional workshop, if the bike needs to be repaired and if you need a spare, you can at our bicycle rental Potsdam rent a bike.

Bed & Bike The bicycle is housed natürllich safe with us and can also be included.


You are also welcome, of course only for one night, but you'll love Potsdam and prolong the stay safe. Remember, Potsdam is a thousand years and the center of the former Prussia. Potsdam is the city of palaces and gardens of Potsdam and is embedded in one of the most attractive landscapes in Germany. Just make sleep station in Potsdam is therefore not wise;-)


Here is the bike map of Potsdam to download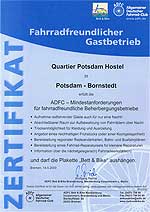 Provisioned with information and regional cycling maps, and bus and train timetables, you can find many attractive places in the area.