FAQ and terms and condition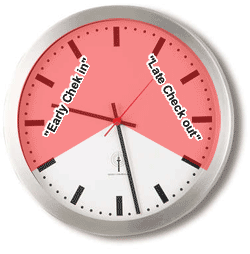 Check in is from 16:00 to 20:00 clock - you come after 20:00 clock with the help of key safes (ask for phone code) on the front door and to your room / bed. Check in is then the next morning.
Early check in 12:00 bis 16:00 clock - there is the possibility to check in earlier, possibly even prior to 12:00 clock. The surcharge for "Early check in" is 5 € per person.
Check out by 11:00 on departure day clock.
Late Check out until 16:00 clock - Unless there are further reservations can also be checked out later. Also here is the additional charge of 5 € per person.

Why can not the hotel / hostel will not charge provides the room sooner or later?

Normally, check-out until 11 clock and check-in from 16 clock. The time in between we just need to service tasks. Many guests, however, want the room to use as possible for free, or up in the afternoon or early evening to keep. This is of course not, because we have no 'spare' empty rooms. Like all businesses we need to earn money using the Hostel. Who wants an additional power, must also pay for it.